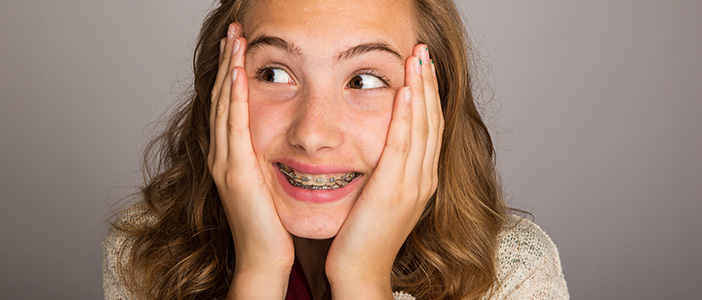 Look at yearbook or prom pictures from the 1950s or '60s and you'll see many smiles framed with heavy metal braces. It's a sight that's less common in high schools today. Why the change? Children today tend to get braces at a much earlier age. Some patients with special problems begin orthodontic treatment at age 7 or younger.
"The American Association of Orthodontics (AAO) recommends that all children receive an orthodontic screening by age 7," says Thomas Cangialosi, D.D.S. "Permanent teeth generally begin to come in at age 6 or 7. It is at this point that orthodontic problems become apparent.
"Because bones are still growing, it's an ideal time to evaluate a child," Dr. Cangialosi says. "Then we can determine what orthodontic treatment, if any, may be needed either now or in the future."
Dr. Cangialosi is chairman and professor of Orthodontics at the University of Medicine and Dentistry of New Jersey.
Making Braces Hip
To make braces more acceptable and fun for young people, manufacturers have made brightly colored elastics. These are the tiny rubber bands that hold the wires to the braces. Children can choose elastics with their school colors or a holiday color scheme, such as orange and black for Halloween.
Choosing the color of the elastics allows patients "to feel that they are more involved in their treatment," Dr. Cangialosi says.
https://www.mcbiermann.com/wp-content/uploads/2015/10/braces-for-kids.jpg
300
702
mbiermann
https://www.mcbiermann.com/wp-content/uploads/2014/09/lgoo.png
mbiermann
2015-10-10 03:45:01
2015-10-10 03:48:00
Early Orthodontics May Mean Less Treatment Later