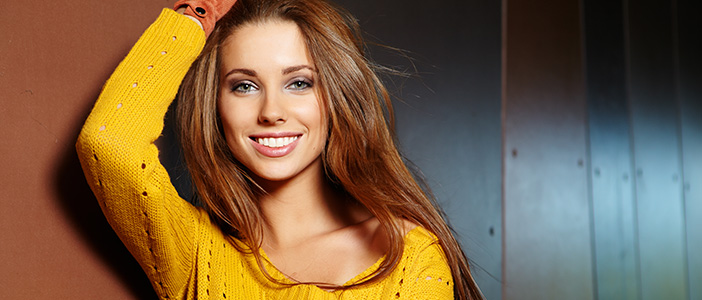 A Smile Makeover Can Help Boost Self-Confidence
Projecting a healthy, radiant smile can help boost self-confidence and lead to increased comfort and success in both personal and career-oriented situations. Yet, many people are unhappy with their less-than-pearly whites, causing them to avoid social interaction and even lose out on opportunities because they are too self-conscious.
Your dissatisfaction with the appearance of your teeth may also be causing you to stifle one of nature's most endearing and intrinsic impulses, simply smiling!
For example, do you:
Avoid posing for pictures that require a smile?
Cover your mouth when speaking or laughing in public?
Avoid dating because you feel unattractive?
Feel that people think less of you because your smile is flawed?
Think your smile makes you look older than you are?
If you've answered yes to any of these questions, you are certainly not alone. A poll conducted by the American Academy of Cosmetic Dentistry found that, while a whopping 99.7% of respondents said they considered a good smile to be a highly important social asset, only 50% of those same respondents indicated that they were satisfied with their own smile. In addition, the Academy reported that people between the ages of 31 and 50 are most unhappy with their smile, are most concerned with making a good first impression through a strong smile, and most frequently seek out information on cosmetic dentistry.
The good news is that advances in cosmetic enhancement and restorative dentistry, including treatments like teeth whitening and the application of porcelain veneers to correct tooth crowding, make it possible for anyone to enhance or improve their smile and boost their self-image. And a complete "Smile Makeover" has been shown to positively impact the perception that others have with respect to attractiveness, popularity, and even wealth — all based on the quality of a person's smile.
Dr. Biermann's office can work with you to determine just what it will take to improve your smile and self confidence from as little as a minor enhancement to a complete smile makeover — anything that would best match your idea of the perfect smile. To get started, The Impact of a Smile Makeover."
Original Article: http://www.munsterdentist.com/blog/post/a-smile-makeover-can-help-boost-self-confidence.html
---
Looking for an orthodontist in Beaverton, Oregon? Biermann Orthodontics is a cutting-edge orthodontic practice that serves Beaverton and Molalla, OR, and focuses on providing world-class customer service and efficient treatment. We strive to create stunning smiles in the shortest amount of time without ever sacrificing quality.
Visit our Locations page to find a clinic near you, or schedule an initial consultation.
Biermann Orthodontics
503-690-0722
17885 NW Evergreen Parkway, Suite 200
Beaverton, OR 97006
https://www.mcbiermann.com/wp-content/uploads/2015/02/boost-self-confidence.jpg
300
702
mbiermann
https://www.mcbiermann.com/wp-content/uploads/2014/09/lgoo.png
mbiermann
2015-02-22 06:48:19
2015-03-04 04:17:23
A Smile Makeover Can Help Boost Self-Confidence