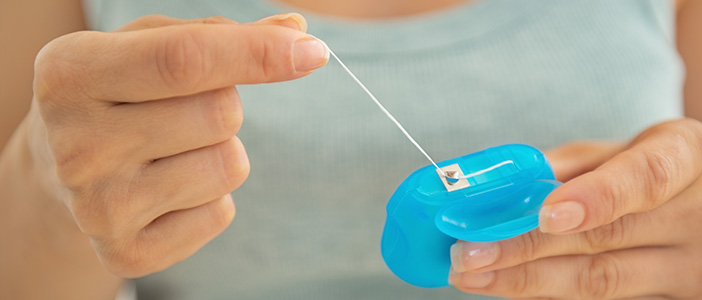 A Guide to Flossing Your Teeth
Brushing your teeth is not enough to maintain good oral health over time. Flossing should be a regular part of your oral hygiene routine.
Cleaning the spaces between your teeth and along your gums with dental floss is as important to your oral health as cleaning your teeth with a toothbrush. Just like you brush your teeth every day, flossing should be part of your daily routine.
To better understand why flossing is so important, Richard H. Price, DMD, spokesperson for the American Dental Association (ADA) and a former clinical instructor at Boston University Dental School, compares it to cleaning your home: "You cannot effectively vacuum a house with only one attachment," he says. "You need other attachments to get into the nooks and crannies. That's what floss does."
The Benefits of Flossing to Your Oral Health
There are many benefits to regularly flossing your teeth. Dental floss can help clear food debris and plaque from the spaces between your teeth, where your toothbrush can't reach. As a result, flossing helps prevent gum or periodontal diseases, tooth decay, and bad breath.
There are certain things to keep in mind to get the most out of flossing:
Use dental floss or an interdental cleaner every day.
Floss at least once a day.
Be gentle when using dental floss so you avoid damaging gum tissue.
If long threads of regular dental floss are too hard for you to hold, use a floss holder.
A Variety of Dental Cleaning Products
Drugstores offer a mindboggling variety of dental cleaning tools. These include:
Waxed dental floss
Unwaxed dental floss
Interdental cleaning aids, including picks and special sticks
Oral irrigators, which use water to remove plaque caught between teeth
Mouth rinses
Both waxed and unwaxed dental floss work well to clean the spaces between your teeth. If the spaces are tight, waxed floss may glide more easily between them. The bottom line, says Price, is that flossing every day is more important to your oral health than which floss you choose.
"Any floss that slips easily between teeth without hurting and damaging the gums is the floss for you," says Price. "Ask you dentist for a recommendation. Some have samples you can try. Waxed, unwaxed, high-tech teflon types, nylon types? Just use it!"
A floss holder or other interdental cleaning tool may be helpful if you have trouble handling long pieces of floss due to arthritis, vision difficulties, or discomfort, but you must follow instructions or ask your dentist how to use them properly so you don't hurt your gums.
Oral irrigators can help remove food caught between your teeth, too; but they shouldn't replace dental floss and toothbrushing. Likewise, most mouthwashes won't do an effective job of keeping your mouth healthy on their own. Many are used simply to cover up breath odor, although some over-the-counter fluoride mouth rinses approved by the ADA can help prevent decay, and some anti-gingivitis or anti-plaque mouth rinses can help fight periodontal diseases.
---
Looking for an orthodontist in Beaverton, Oregon? Biermann Orthodontics is a cutting-edge orthodontic practice that serves Beaverton and Molalla, OR, and focuses on providing world-class customer service and efficient treatment. We strive to create stunning smiles in the shortest amount of time without ever sacrificing quality.
Visit our Locations page to find a clinic near you, or schedule an initial consultation.
Biermann Orthodontics
503-690-0722
17885 NW Evergreen Parkway, Suite 200
Beaverton, OR 97006
https://www.mcbiermann.com/wp-content/uploads/2015/06/guide-to-flossing.jpg
300
702
mbiermann
https://www.mcbiermann.com/wp-content/uploads/2014/09/lgoo.png
mbiermann
2015-06-03 01:50:15
2015-06-03 01:51:18
A Guide to Flossing Your Teeth