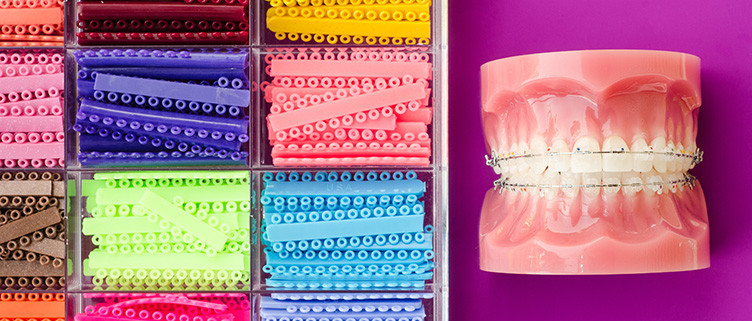 About Rubber Bands for Braces
Orthodontic braces perfect your smile by applying constant, steady pressure to move your teeth into proper position. The brackets and wires attached to your teeth are limited in the direction of the applied force, however. Some situations, particularly to correct bite problems, require the upper and lower rows of teeth to move relative to each other. Rubber bands, or elastics, hooked to the brackets apply tension in directions brackets and wires cannot achieve alone.
Purpose
Elastics apply constant pressure to align the teeth in a perfect bite, states the website Rubber Bands for Braces. The lower jaw must move relative to the upper teeth for proper alignment. Braces alone only move teeth along the upper or lower arch.
Action
Rubber bands attach to the braces in specific ways to apply the proper pressure on your teeth. The constant, steady pressure moves teeth. Elastics must be worn consistently, usually 24 hours a day, orthodontist Mark J. Schwitz writes on his website TeamSchwitz. Leaving your elastics off for as little as a day can allow teeth to move back and erase the progress you had made. The way in which the elastics attach to the braces dictates the direction of the tension, so the specific configuration of the rubber bands is customized for each patient. The rubber bands typically hook over loops on the brackets of upper and lower teeth and may be placed vertically, diagonally or in a zigzag pattern.
Composition
Orthodontic rubber bands are made from medical-grade latex, notes the website BracesInfo. The material is the same as that used for implants, and it is safe for human consumption. Deliberately ingesting a large number of elastics, however, causes indigestion and possibly an allergic reaction.
Eating
Rubber Bands for Braces recommends removing elastics while you eat and inserting a new set when you finish. The website notes your elastics make it difficult to open your mouth wide enough to bite some foods and the bands may break. Schwitz, however, advises wearing elastics 24 hours a day, including while you eat. Leaving the rubber bands in place minimizes the time the pressure is removed from your teeth, giving the teeth virtually no time to move out of position. You will soon learn to adapt to eating with your elastics, Schwitz adds.
Tips
Always carry extra rubber bands with you and replace the elastics as soon as possible if one breaks, suggests Schwitz. Resist the temptation to double up on your elastics to speed the process. This will place too much pressure on your teeth and may damage the roots. Always wash your hands before changing your elastics, says Rubber Bands for Braces. When replacing the elastics, stretch the rubber bands only far enough to reach the hook. Overstretching can pull the rubber band out of shape, and it will lose its strength. Use a mirror to ensure you place the elastics properly. Contact your orthodontist immediately if you run out of rubber bands.
---
Looking for an orthodontist in Beaverton, Oregon? Biermann Orthodontics is a cutting-edge orthodontic practice that serves Beaverton and Molalla, OR, and focuses on providing world-class customer service and efficient treatment. We strive to create stunning smiles in the shortest amount of time without ever sacrificing quality.
Visit our Locations page to find a clinic near you, or schedule an initial consultation.
Biermann Orthodontics
503-690-0722
17885 NW Evergreen Parkway, Suite 200
Beaverton, OR 97006
https://www.mcbiermann.com/wp-content/uploads/2015/03/misconceptions-about-orthodontics.jpg
498
752
mbiermann
https://www.mcbiermann.com/wp-content/uploads/2014/09/lgoo.png
mbiermann
2015-03-13 06:10:08
2015-03-13 06:12:17
About Rubber Bands for Braces