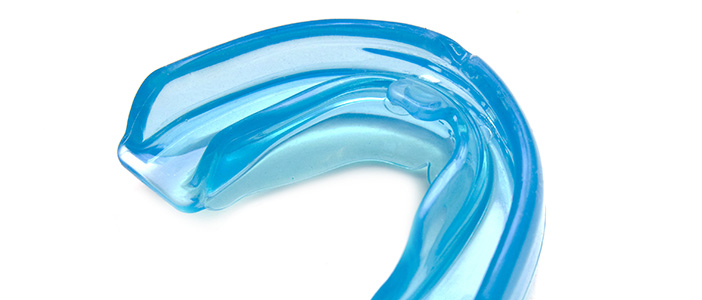 by DR. JOSEPH THOMPSON | Featured on Ask an Orthodontist
A lot of people enjoy watching sports and participating in sports activities.  It's exciting when we see our team or the underdog come back and win the game.  Some parents are concerned about their children playing sports while they have braces on their teeth.  The question often asked is, "Are there any limitations or sports that my child can't participate in?"  During orthodontic treatment with braces, a child can play any sport.  However, we have to be careful to protect our lips and teeth from injury.  The best way to protect our teeth is with an orthodontic mouth guard.
Orthodontic mouth guards are different from a regular mouth guard.  First the regular mouth guard is thermoplastic.  Before using it, you have to heat the regular mouth guard and bite into it to create imprints of your teeth.  This is a problem with orthodontic treatment.  As the orthodontist moves your teeth, the regular mouth guard will try to move the teeth into an old position going against the tooth movement we want.  Or eventually the teeth will move so much that the regular mouth guard will not fit any more.
The other problem with a regular mouth guard is that it fits against the brackets too well.  If a person wearing a regular mouth guard is hit in the mouth hard enough, the force will knock a large majority of the brackets off of the teeth.  This then takes time and an extra visit to the orthodontist for repairs.
The best type of protection for sports is an orthodontic mouth guard.  The orthodontic mouth guard is made of a high grade silicone and is much different than a regular mouth guard.  First, an orthodontic mouth guard is not made of thermal plastic.  You do not boil it in hot water.  This mouth guard has flanges that you bite down on to hold it in the mouth.
The other item that is different is that the orthodontic mouth guard has large rubber flanges that go up under the lips to keep the lips from being pushed into the brackets.  When the lips are pushed into the brackets, sometimes that lip will get trapped around the wings of the bracket or the wire itself.  As the lip swells, it gets tighter and tighter to where you have to be seen by your orthodontist to dislodge your lip.
The orthodontic mouth guard should be used for all contact sports like soccer, football, basketball, wrestling and hockey.  Some people suggest using a mouth guard for baseball.  There are some sports that do not require a mouth guard.  Ask your orthodontist what they recommend.  Finally, most orthodontists provide their patients with a orthodontic mouth guard as a common courtesy.
Orthodontic mouth guards are a necessity to protect teeth and braces from injury.
---
Looking for an orthodontist in Beaverton, Oregon? Biermann Orthodontics is a cutting-edge orthodontic practice that serves Beaverton and Molalla, OR, and focuses on providing world-class customer service and efficient treatment. We strive to create stunning smiles in the shortest amount of time without ever sacrificing quality.
Visit our Locations page to find a clinic near you, or schedule an initial consultation.
Biermann Orthodontics
503-690-0722
17885 NW Evergreen Parkway, Suite 200
Beaverton, OR 97006
http://www.mcbiermann.com/wp-content/uploads/2015/09/orthodontic-mouth-guard.jpg
300
702
mbiermann
http://www.mcbiermann.com/wp-content/uploads/2014/09/lgoo.png
mbiermann
2015-09-23 02:29:23
2015-09-23 02:29:23
Can I Play Sports with Braces on My Teeth?