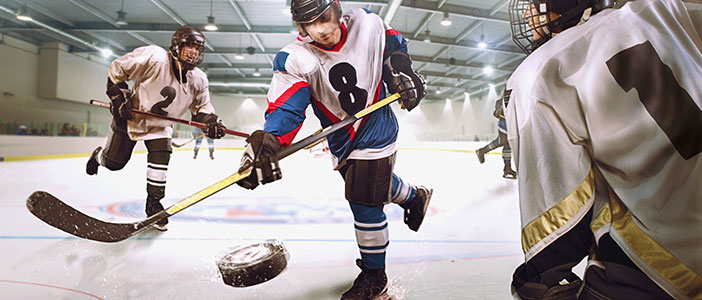 Mouth guards are U-shaped pieces of plastic that fit between the upper and lower teeth, protectively molding around the upper teeth. Use of a mouth guard can prevent dental and jaw injury during sports. Dental injury may lead to misalignment of the teeth (malocclusion). Although some amateur sports, such as football, field hockey, ice hockey, lacrosse, and boxing, require the use of mouth guards, Dr. Biermann recommends mouth guard use in any sport that may cause dental injury.
Different types of mouth guards are available.
Preformed "stock" mouth guards offer some protection but are bulky and make talking and breathing difficult. These must be clenched between the teeth at all times. They are sold in most sporting goods stores and don't cost much.
"Boil-and-bite" mouth guards are a good choice for children who are losing and growing teeth and have an ever-changing bite. They are made of a thermoplastic material that softens when boiled and will then mold around the teeth when bitten down on. Boil-and-bite mouth guards are less bulky than stock guards, are typically more comfortable, and are not expensive. They are available in sporting goods stores.
Custom-fit mouth guards, made by a dentist, use thermoplastic material. These guards offer the best fit and comfort. But they are expensive.
Orthodontic treatment mouth guards (for braces and other appliances) are loose-fitting and protect the mouth from appliance-related injury during sports and other activities.
Mouth guards are meant to protect the teeth and mouth. They don't prevent gradual tooth movement.
This information is produced and provided by the National Cancer Institute (NCI). The information in this topic may have changed since it was written. For the most current information, contact the National Cancer Institute via the Internet web site at http://cancer.gov or call 1-800-4-CANCER.
Original Article: http://www.webmd.com/oral-health/tc/mouth-guards-for-sports-topic-overview
---
Looking for an orthodontist in Beaverton, Oregon? Biermann Orthodontics is a cutting-edge orthodontic practice that serves Beaverton and Molalla, OR, and focuses on providing world-class customer service and efficient treatment. We strive to create stunning smiles in the shortest amount of time without ever sacrificing quality.
Visit our Locations page to find a clinic near you, or schedule an initial consultation.
Biermann Orthodontics
503-690-0722
17885 NW Evergreen Parkway, Suite 200
Beaverton, OR 97006
https://www.mcbiermann.com/wp-content/uploads/2015/01/men-playing-hockey.jpg
300
702
mbiermann
https://www.mcbiermann.com/wp-content/uploads/2014/09/lgoo.png
mbiermann
2015-01-07 03:16:00
2015-03-04 04:21:33
Mouth Guards for Sports