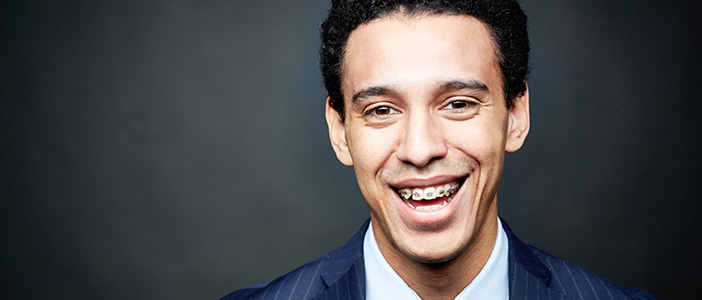 Getting Braces as an Adult
Interested in getting braces? An initial consultation will provide an opportunity to ask questions about orthodontic treatment such as:
What are the costs involved in getting braces?
How will the braces correct my problem?
How long will I need to wear braces?
Contact us for a free consultation and Biermann Orthodontics will set you up with an evaluation!
---
Less noticeable teeth straightening options are available today. Learn about your options.
by Krisha McCoy, MS on Everyday Health
Many adults with crooked teeth think they missed their opportunity for braces during childhood. But dental professionals now readily use braces to help correct dental problems at any age. In fact, adult braces are more popular today than ever before.
When Adult Braces Can Help
Adult braces can be used to correct a variety of dental problems, including:
Crooked teeth
Overcrowded teeth
Bite abnormalities (for example, an overbite or underbite)
Problems with jaw position
Jaw joint problems
Without proper treatment for these problems, you may be at higher risk of cavities, gum disease, ear pain, headaches, and chewing and speech problems. For this reason, braces can be an important part of the maintenance of your dental health.
Options for Adult Braces
Some people shy away from braces because they want to avoid having a mouth full of metal. Fortunately, there are many teeth-straightening options available today, some of which are nearly invisible.
Options for adult braces and alternatives to braces include:
Conventional metal braces. Conventional metal braces involve attaching metal brackets and wires to your teeth. The braces are periodically adjusted in order to apply pressure to your teeth in such a way that they move into proper position. While conventional metal braces are efficient and relatively inexpensive, they are not always the first choice among adults who want braces, since they are so noticeable.
"Clear" ceramic braces. Ceramic braces are similar to traditional braces, but their brackets are made of tooth-colored porcelain, and so only the connecting wires are visible.
Lingual braces. These braces are attached to the back of the teeth, facing the tongue. Though you cannot see lingual braces, they can be irritating to the tongue and may be more difficult for your orthodontist to adjust.
Clear acrylic aligners. Clear acrylic aligners are custom-fitted, removable appliances that are placed over your teeth. The major advantages are that aligners are essentially invisible and are easier to clean than braces because they can be removed during eating. You will wear each set of aligners for about two weeks, and then put on a new pair to further adjust your teeth. These aligners are more costly and often take longer to work than traditional braces, though. Also, some people may still end up briefly requiring regular braces after wearing aligners.
The cost of braces or aligners is generally $5,000 to $6,000, but the price will depend on which type you choose and the severity of your problem. Some medical and dental insurance plans cover at least a portion of orthodontic work, so check with your provider(s) to find out if they can offset any of the cost.
How Long Do You Wear Adult Braces?
Your orthodontist can estimate how long you will need to wear adult braces or aligners. On average, most people need to wear braces for about two years.
While you're wearing braces, you'll need to be extra vigilant about your dental hygiene. This will involve monthly visits to your orthodontist, regular dental checkups, and brushing your teeth every time you eat to reduce the risk of getting food caught under your braces. If you opt for clear acrylic aligners, it will be easier to keep your teeth clean, since you can take off the aligners when you eat, brush, and floss.
After your braces have been removed, you will need to wear a retainer (a device that's fitted to your mouth to help keep your teeth in position) for a period of time to reinforce and preserve the new alignment of your teeth. Some retainers are worn permanently, though most are used for only a short time. Wearing your retainer as recommended is essential for the long-term success of your treatment.
If you are interested in adult braces, discuss your options with an orthodontist. It's not too late!
---
Looking for an orthodontist in Beaverton, Oregon? Biermann Orthodontics is a cutting-edge orthodontic practice that serves Beaverton and Molalla, OR, and focuses on providing world-class customer service and efficient treatment. We strive to create stunning smiles in the shortest amount of time without ever sacrificing quality.
Visit our Locations page to find a clinic near you, or schedule an initial consultation.
Biermann Orthodontics
503-690-0722
17885 NW Evergreen Parkway, Suite 200
Beaverton, OR 97006
https://www.mcbiermann.com/wp-content/uploads/2015/07/braces-as-adults.jpg
300
702
mbiermann
https://www.mcbiermann.com/wp-content/uploads/2014/09/lgoo.png
mbiermann
2015-07-29 02:26:00
2015-07-29 02:28:07
Getting Braces as an Adult