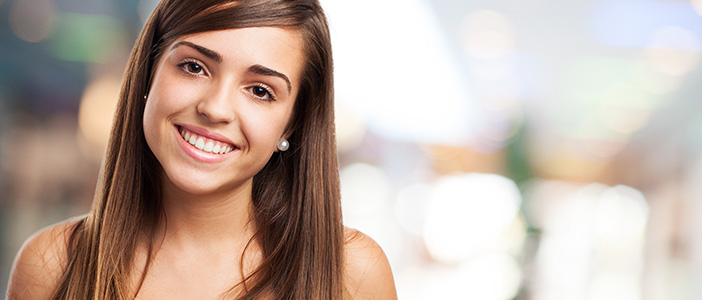 by Dustin Burleson, DDS
Orthodontics is the specialty of dentistry devoted to building beautiful smiles by bringing teeth, lips, and jaws into proper alignment. Straight teeth function better, are easier to clean, and are more likely to last your lifetime. Properly aligned jaws may reduce the risk of jaw joint dysfunction (TMJ). Orthodontics is a wonderful investment with life-long returns.
The practice of orthodontics involves the use of appliances to move teeth and modify growth of the jaws. Treatment may be recommended by your orthodontist using the following appliances:
Traditional Braces (attach to the outside surfaces of the teeth)
Lingual Braces (attach behind the teeth)
Expanders (removable or fixed appliances to widen the jaws)
Habit appliances (fixed appliances to control thumb sucking or tongue thrusting)
Space maintainers (hold space when baby teeth are lost early)
Retainers (maintain alignment of the teeth and bite)
Headgear (helps the orthodontist control jaw growth and alignment)
Functional appliances (also help the orthodontist achieve jaw alignment)
Early treatment and growth modification (may help prevent future tooth and jaw alignment problems)
Orthodontic Exams Should Begin No Later Than Age Seven
The following early warning signs usually indicate that your child should have an orthodontic exam:
Early or late loss of teeth
Difficulty in chewing or biting
Mouth breathing, loud snoring at night and fatigue during the day
Finger sucking or other oral habits
Crowding, misplaced, or blocked-out teeth
Jaws that shift, make sounds, protrude or retrude
Speech difficulty
Biting the cheek or biting into the roof of the mouth
Protruding teeth
Teeth that meet in an abnormal way or don't meet at all
Facial imbalance or asymmetry
Grinding or clenching of teeth
If your child is approaching the age of seven, it's time to make an appointment for an initial exam with your orthodontist. The American Association of Orthodontists has recommended that the proper age for a child's first visit to the orthodontist is no later than seven years of age. Often your orthodontist will identify a potential problem, but recommend monitoring the child's growth and development. He or she can spot subtle problems with jaw growth and emerging teeth while baby teeth are present and recommend starting treatment at the best possible time to minimize treatment duration and cost.
Remember, your orthodontist can improve most tooth and jaw alignment problems at any age, but there is usually a best age to start treatment, in terms of the amount of improvement that can be achieved and the treatment cost and duration. Because every patient presents with unique orthodontic problems and growth considerations, the "best age" to start treatment is different for every patient. Therefore, the best time for a consultation with your orthodontist is as soon as a possible problem is noticed.
Original Article: http://www.archwired.com/Treatment_Timing_Dr_Burelson.htm
---
Looking for an orthodontist in Beaverton, Oregon? Biermann Orthodontics is a cutting-edge orthodontic practice that serves Beaverton and Molalla, OR, and focuses on providing world-class customer service and efficient treatment. We strive to create stunning smiles in the shortest amount of time without ever sacrificing quality.
Visit our Locations page to find a clinic near you, or schedule an initial consultation.
Biermann Orthodontics
503-690-0722
17885 NW Evergreen Parkway, Suite 200
Beaverton, OR 97006
https://www.mcbiermann.com/wp-content/uploads/2015/03/best-time-for-braces.jpg
300
702
mbiermann
https://www.mcbiermann.com/wp-content/uploads/2014/09/lgoo.png
mbiermann
2015-03-01 17:02:47
2015-03-04 04:17:09
Orthodontic Treatment Timing